We've been very busy decorating birdbath tops and bases.
The Birdbaths pictured are just a few of the beautiful patterns available,
please call or visit our retail store and inquire which other patterns are currently in stock. Get one before they are gone!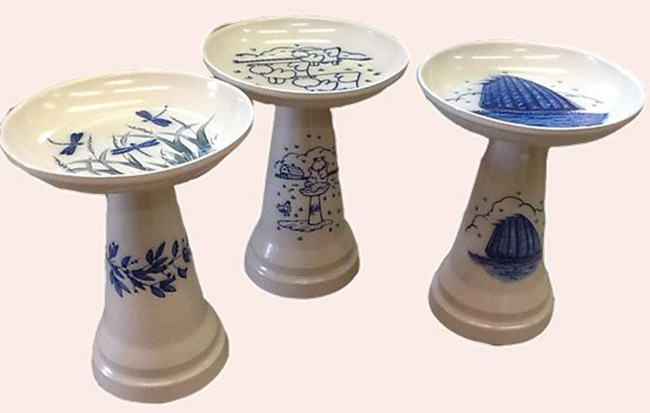 From Left to Right:
Blueberry Vine Base at $59.95 with the Dragonfly Top - $64.35
Cow Birdbath Vase at $59.95 with Multi Cow Top - $64.35
Chipper Ship Base at $80.35 with Clipper Ship Top - $86.25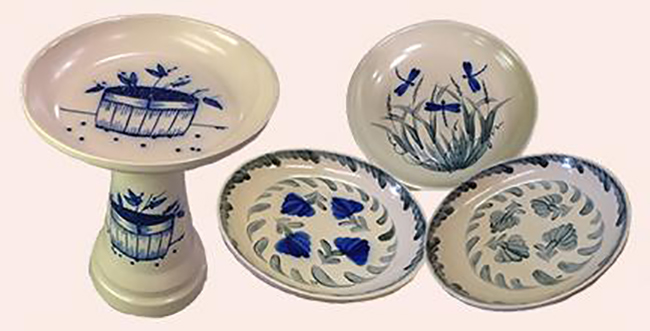 From Left to Right:
Blueberry Basket Pattern - $64.35 Top/$59.95 Base
Blue/Green Pennsylvania Pattern Top - $64.35
Dragonfly Birdbath Top - $64.35
Green Pennsylvania Top - $64.35
Our Hours are
9am-5pm daily
Click here to learn more about Salmon Falls Stoneware on WMUR-TV
The Perkins Cove location is closed.
Stop by and visit our studio and retail store at 75 Oak st. Dover, NH.
We would love to see you!!
Salmon Falls Stoneware is hiring Store Help...
Can you work weekends?
Please inquire via email info@salmonfalls.com
or call 603-749-1467 for an application.
Sign up below to receive the latest news from Salmon Falls